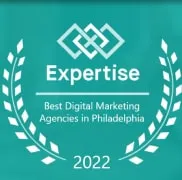 2020 Winner!
Scored 107 Digital Marketing Agencies in Philadelphia, PA and Picked the Top 26
Digital Marketing Agency in Philadelphia
Philly Online Marketing is Proud to Present being Chosen as one of the Best Digital Marketing Agencies in Philadelphia. A team of experts at Expertise provided the award where they try to connect qualified experts to people in need of their skills. The judging was based on a 3 step review process. The 1st step was to find the Digital Marketing Agencies in Philadelphia then weed out any that did not appear to be experts due to bad reviews or limited online information. Next in-house software was used to grade each business on 25 variables across 5 judgment areas – Reputation, Credibility, Experience, Availability and Professionalism. Lastly the top Digital Marketing Agencies are manually reviewed that have the highest scores and a detailed descripti0on is provided for the readers.
I'd have to say out of 107 participants Philly Online Marketing must be very impressive to win this award and we are proud of the accomplishment.
You can read more about the 26 winners and the award page here at Expertise
Philly Online Marketing strives to help and guide companies maximize your internet marketing budgets effectively. Our experience can help ensure that your business website shows up well in search engines, has its best potential to prompt site visitors to contact you while taking advantage of all the free internet advertising that's available.
Take the complexity out of your Website's Online Internet Marketing and Internet Advertising by providing you with a….
Total Digital Marketing System!! Click Here to see our wide array of Services .
Digital Marketing Consultant

215-384-4568
150 Monument Rd. | Suite 207  | Bala Cynwyd, PA 19004
Email: [email protected]